Mudcloth Necklace for Men | Brass Globe Beads | Gold African Men necklace | Wound | Africa
This men's tie is a great fashion statement. Along the side of this tie is a beautiful wound globe bead. The wound globe beads are handmade individually through the "Lost Wax process" technique. The beads measure approximately 13-14mm in diameter, connecting the tie together with a Sun Baule Bead. The Sun Baule Brass Beads are easily identified by the Adinkra sun and moon symbols. This look is completed with a small smooth gold cap. Whether you are purchasing for yourself or a gift for someone else, you will enjoy having this in your collection!
Measurement: Length: 21 in.  Width: 2 1/2 in Rope: 14 in.
 Color: Brown, Cream, Gold
 Fabric: Faux Woven Mud cloth
 Hardware: Large smooth gold end caps
 Closure: Adjustable leather ends
Note: Each item is handmade, due to variances in the fabric print each item may look slightly different from the one pictured. No two items will look exactly the same, thus creating a custom look just for you.
Care: Do not sleep, bathe or exercise while wearing this necklace.
---
Free shipping on orders over $100 (Domestic only)
Mudcloth Necklace for Men | Brass Globe Beads | Gold African Men necklace | Wound | Africa
A cultural alternative to a traditional tie.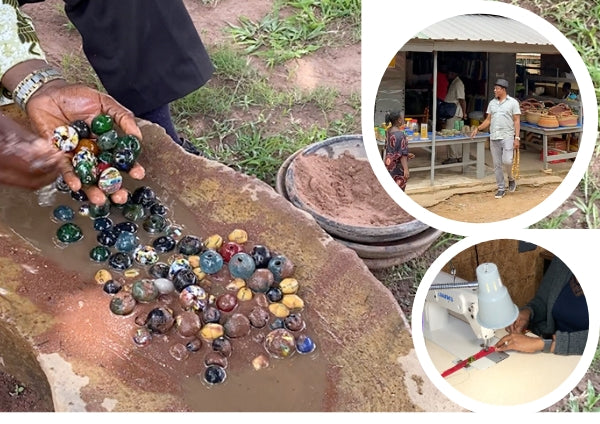 Empowering Communities Through Sustainable, Ethical and Innovative Practices
HANDMADE BY ARTISANS IN THE USA & AFRICA
Cloth & Cord is a company deeply committed to making a positive impact while producing ethical and sustainable goods in both the United States and Africa. Blending the principles of AI/STEAM (Science, Technology, Engineering, Arts, and Mathematics), the company creates responsibly crafted products that are not only affordable but also support talented artisans.