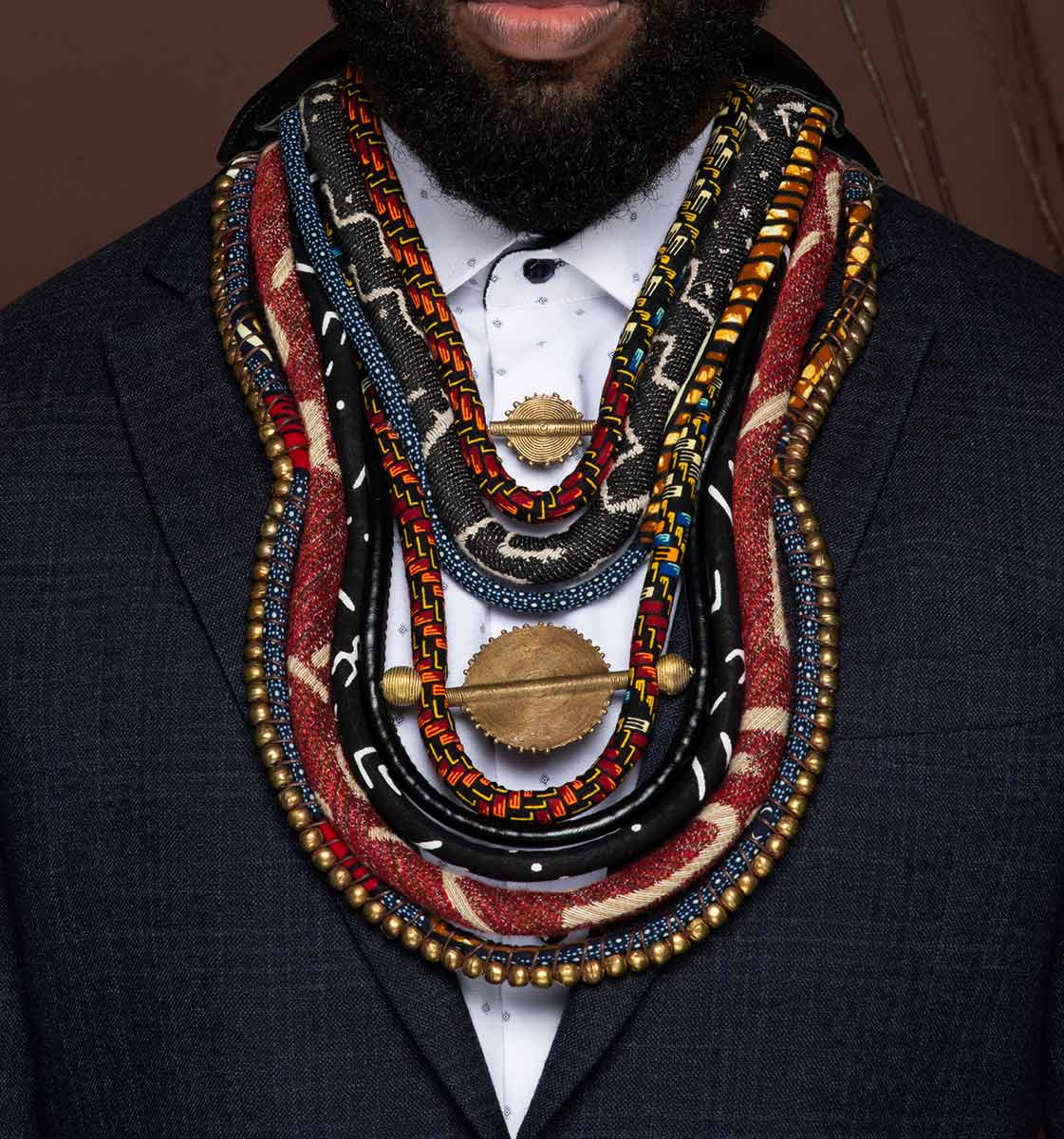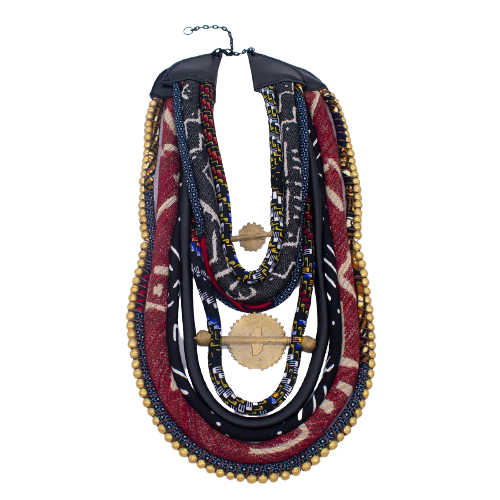 Men's African Statement Necklace | King | African Bib | Ghana Sun Baule | Mud Cloth | African Men's Necklace | Tribe
This African multi-color bib is a major fashion statement! It consists of two bibs combined as one. The handmade Sun Baule Brass Beads from Ghana are easily identified by the Adinkra sun and moon symbols. The wound globe beads throughout this piece are handmade individually through the "Lost Wax process" technique. The beads measure approximately 13-14mm in diameter. The small gold beads are also handmade, waxed, and are superior in quality. The extensive detail throughout this piece is what makes it a very intricate, detailed, statement conversation starter.
Measurement: Length: 15 in.  Width: 7 1/2 in.
 Color: Multi-colored, Maroon, Black, White, Blue
 Fabric: Faux mud cloth fabric
 Closure: Black lobster closure - 4 in. extension chain
Note: Each item is handmade, due to variances in the fabric print each item may look slightly different from the one pictured. No two items will look exactly the same, thus creating a custom look just for you.
Care: Do not sleep, bathe or exercise while wearing this necklace.
---
Free shipping on orders over $100 (Domestic only)
Men's African Statement Necklace | King | African Bib | Ghana Sun Baule | Mud Cloth | African Men's Necklace | Tribe
I am the Emergent Technology Leader at Quality Education Academy, a culturally responsive charter school for Black and Brown scholars. Our daily uniform business but with a cultural twist, so I bought a couple of Cloth & Cord Tribal Corded Necklace to complement my blazers and fell in love with the style. For this year's graduation, I wanted to go big so I bought the Men's African Statement Necklace. I've received so many compliments from this wearing this neckpiece and so proud of the quality, craftsmanship, and detail in the making of this fashion wear. I will continue to include more Cloth & Cord fashion with my wardrobe this year.
I had high expectations for this piece, and yet somehow even those expectations were exceeded. After looking at it online for over a year, I finally gave in and purchased. It was better in person. So much so that I ended up purchasing two of the women's necklace for my mother and sister. I will be ordering again this week!
What a beautiful statement piece! I had the wonderful opportunity to wear it in JoBurg, South Africa. It was definitely a highlight around the table.
The workmanship and quality are beyond outstanding. This is truly a piece of art that deserves to be displayed admired.
What a striking piece of wearable art. I had many admirers!! It will become an heirloom in my family.
Absolutely gorgeous piece. As a designer I love creating conversation articles of clothing that could stand alone. This piece of jewelrey does that very thing.
It is truly a piece of wearable art. It speaks past heritage, future existence in the now present. It is well crafted, beautiful and wearable. It is top shelf, well worth more than the asking price. If a sister or significant other is looking for a beautiful man gift, surprise him with this, he will be forever grateful and every time he wears it complements will lead to him mentioning your name ❤️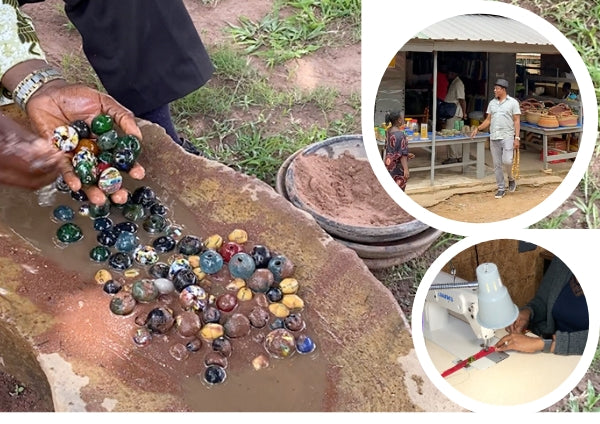 Empowering Communities Through Sustainable, Ethical and Innovative Practices
HANDMADE BY ARTISANS IN THE USA & AFRICA
Cloth & Cord is a company deeply committed to making a positive impact while producing ethical and sustainable goods in both the United States and Africa. Blending the principles of AI/STEAM (Science, Technology, Engineering, Arts, and Mathematics), the company creates responsibly crafted products that are not only affordable but also support talented artisans.