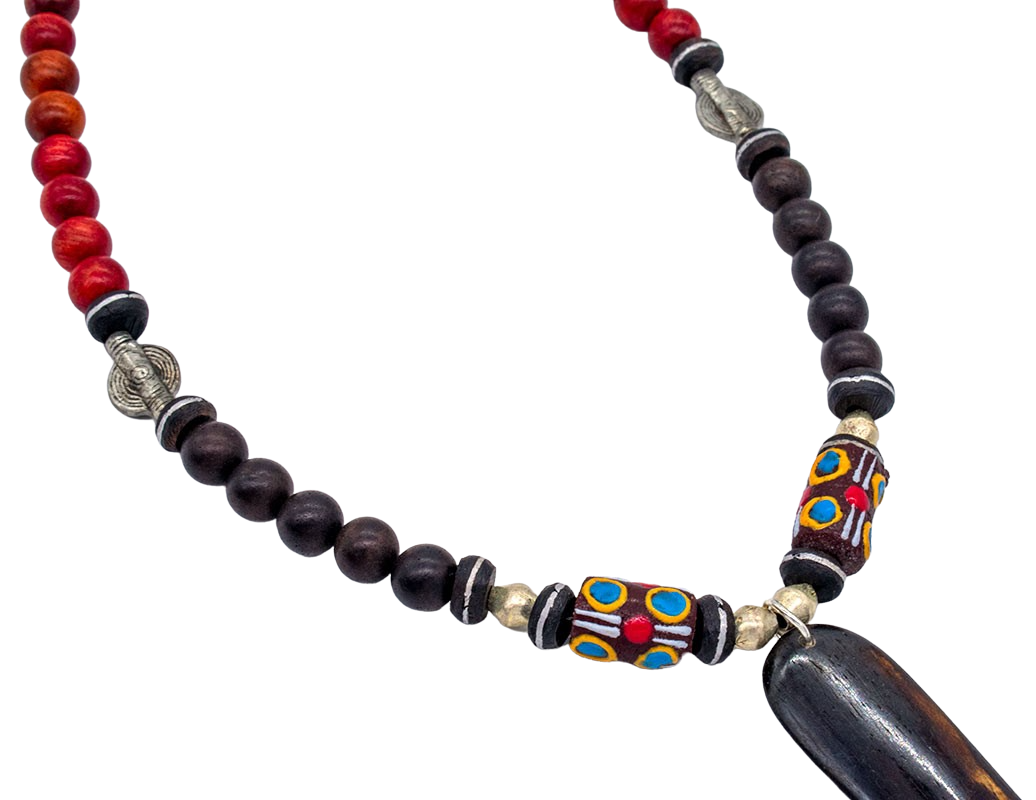 African Maroon, Brown Wood Bead and krobo bead Necklace | Cloth and Cord
This piece consist of small maroon, dark brown wood beads, flanked with 2 hand painted krobo beads and 2 silver baule beads from Ghana with a batik bone pendant from Kenya. This pendant is handmade and will have some imperfections. There may be some slight variation between each unique pendant.
Measurement: 23 in circumference
Hardware: Silver Lobster Clasp
Color: Maroon, brown, and blue
Note: Each item is handmade, due to variances in the fabric print each item may look slightly different from the one pictured. No two items will look exactly the same, thus creating a custom look just for you.
Care: Do not sleep, bath or exercise while wearing this necklace.
---
Free shipping on orders over $100 (Domestic only)
African Maroon, Brown Wood Bead and krobo bead Necklace | Cloth and Cord
It's beautiful, the colors mesh very well together. Another piece of beautiful African Art to add to my collection. Get yours now!
Amazing necklace! The craftsmanship is on point. Definitely will be getting more additional pieces.
Excellent quality. It is constantly complimented.
If afrocentric jewelry is your thing, then Cloth & Cord is the answer to your all of your desires! The craftsmanship is top notch (not flimsy but structured and sturdy), and the very, very aesthetically pleasing! I am always happy with whatever jewelry I buy! I have earrings and necklaces; I can't get enough!
Love Cloth & Cord!
The necklace arrived right on time for an event that I wanted to wear it to and it was just as nice as the pictures showed. I received compliments from so many people, ironically mostly ladies, although it's designed for men! I end up sharing the website with several of them that wanted to know where I purchased the beautiful jewelry.
My only disappointment with the necklace is that it was smaller than what I expected and didn't fit around my neck. Fortunately I had a silver piece of a link chain that I used to extend the length of the necklace (in the back), in order for me to wear it how I wanted.
I think that the necklace should be longer than what it is, especially for men! On a man with a size 19 neck, the necklace would almost fit like a choker; and this necklace (in my opinion) with the long tooth wooden piece, should at least extend close toward the center of the chest area.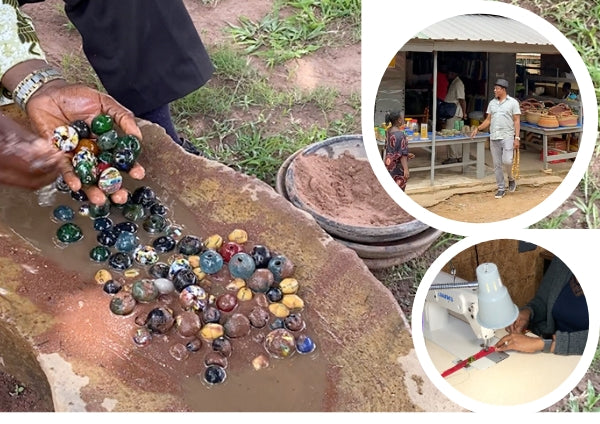 Empowering Communities Through Sustainable, Ethical and Innovative Practices
HANDMADE BY ARTISANS IN THE USA & AFRICA
Cloth & Cord is a company deeply committed to making a positive impact while producing ethical and sustainable goods in both the United States and Africa. Blending the principles of AI/STEAM (Science, Technology, Engineering, Arts, and Mathematics), the company creates responsibly crafted products that are not only affordable but also support talented artisans.