Orange Kente and Blue Stripe Earring | African Hoop Earrings | African Wax Print Earrings | Ankara Fabric Earrings
$28.00
Regular price
$34.80
This African inspired Kente Print Earrings are vibrant in color with orange being more prominent. These pair of multi-color earrings will go great with casual look creating a conversation starter. This Kente Print Earring is connected by an earring leather tab ending with a silver earring hook. They are definitely a great addition to your collection!
Measurements: Length: approximately 4in. Width: approximately 3in.
Color: Multi-color, prominent- orange, blue and green
Fabric: African wax print
Hardware: Silver Earring Hooks
Note: Each item is handmade, due to variances in the fabric print each item may look slightly different from the one pictured. No two items will look exactly the same, thus creating a custom look just for you.
Care: Do not sleep, bath or exercise while wearing these earrings.
Please read our "Shipping and Shop Policies" before check-out. Thanks, Cloth & Cord
---
Free shipping on orders over $100 (Domestic only)
Orange Kente and Blue Stripe Earring | African Hoop Earrings | African Wax Print Earrings | Ankara Fabric Earrings
$28.00 USD
Regular price
$34.80 USD
I love these lightweight earrings.
The colors in these earrings are beautiful! The earrings are huge for me so I plan to purchase a smaller size.
The item itself is beautiful, but the packaging was poor. I ordered several sets of earrings and they arrived in one tiny box, all pushed against each other, which caused one earring to get bent, and stiches came off. So, I cannot wear that pair until it gets repaired. Considering the price of these earrings made of fabric, I was hoping for a better delivery.
I received my 4th piece of jewelry from Cloth and Chord. Beautiful and well made earrings. Everything I've ordered exceeded my expectations!!
Thank you for creating such beautiful pieces!! Denyse McCombs
Would love a headband for this
Beautiful!! They were bigger than I expected and I love them! I want more!!!
I am so Happy with my earring purchase and they also arrived in a timely manner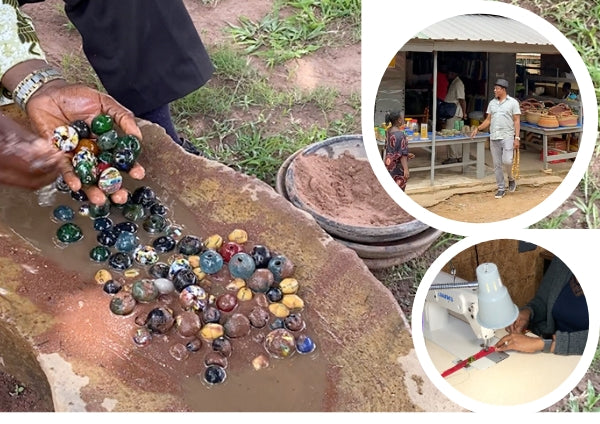 Empowering Communities Through Sustainable, Ethical and Innovative Practices
HANDMADE BY ARTISANS IN THE USA & AFRICA
Cloth & Cord is a company deeply committed to making a positive impact while producing ethical and sustainable goods in both the United States and Africa. Blending the principles of AI/STEAM (Science, Technology, Engineering, Arts, and Mathematics), the company creates responsibly crafted products that are not only affordable but also support talented artisans.