Men's Mud Cloth Necklace | Himba | Black and Cream | African
This himba piece is very versatile! You can have the closure to the back of your neck or adjust to show in the front, making it able to be worn multiple ways. The detail of this piece is outstanding, resulting in a unique piece.
 Measurement: Length: 28 in. Width: 1 in.
 Color:  Black and Cream
 Fabric: Faux mud cloth fabric
 Closure: Magnetic closure
Note: Each item is handmade, due to variances in the fabric print each item may look slightly different from the one pictured. No two items will look exactly the same, thus creating a custom look just for you.
Care: Do not sleep, bathe, or exercise while wearing this necklace.
---
Free shipping on orders over $100 (Domestic only)
Men's Mud Cloth Necklace | Himba | Black and Cream | African
Bought this to go along with the Corded Coiller. A great set to have! Going to order the brown one next...
I love that you create African inspired jewelry that standout visually, but also fits in with everyday attire.
Love it!
Love my mud cloth necklace.Made well.Goes with all my sweaters.Received several compliments.Will be ordering the beige one soon.
It is a statement accessory!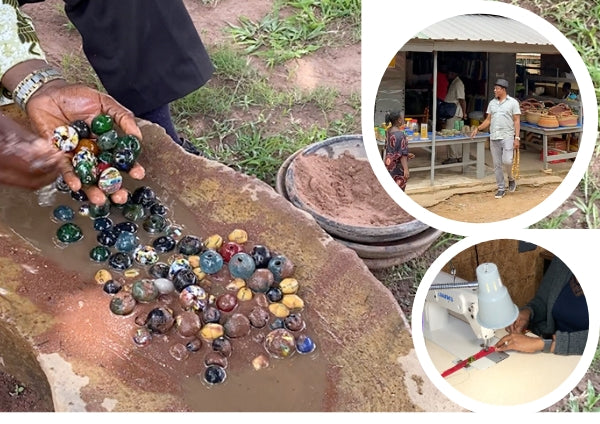 Empowering Communities Through Sustainable, Ethical and Innovative Practices
HANDMADE BY ARTISANS IN THE USA & AFRICA
Cloth & Cord is a company deeply committed to making a positive impact while producing ethical and sustainable goods in both the United States and Africa. Blending the principles of AI/STEAM (Science, Technology, Engineering, Arts, and Mathematics), the company creates responsibly crafted products that are not only affordable but also support talented artisans.