Men Krobo Glass Bead Necklace w/ Mask Pendant – Unisex| Cloth&Cord
The Krobo Powder Bead with Baule Brass Beaded Necklace is inspired by Ghanaian and Ivory Coast heritage.  Krobo Powder beads are layers of powdered glass and hand-painted. Baule Brass Beads are easily identified by the Adinkra sun and moon symbols.  Carefully handcrafted by our talented Artisans to create jewelry you will surely love.
This Krobo necklace will definitely be a hot fashion topic and is a great product to add to your collection! The necklace has a beautiful African brass pendant in the shape of a traditional African mask. This African pendant is made using the "Lost Wax" technique and comes from Ghana.
Measurement: 23 circumference
Hardware: Bronze Lobster Clasp
Color: Multi-color, orange, green, blue and brown
Note: Each item is handmade, due to variances in the fabric print each item may look slightly different from the one pictured. No two items will look exactly the same, thus creating a custom look just for you.
Care: Do not sleep, bath or exercise while wearing this necklace.
Please read our "Shipping and Shop Policies" before check-out. Thanks, Cloth & Cord
---
Free shipping on orders over $100 (Domestic only)
Men Krobo Glass Bead Necklace w/ Mask Pendant – Unisex| Cloth&Cord
Excellent Quality and Unique Design - A Satisfied Customer
I recently purchased the Men Krobo Glass Bead Necklace with Mask Pendant from Cloth and Cord, and I must say that I am extremely satisfied with my purchase. This necklace has surpassed my expectations in terms of quality, design, and overall uniqueness.
First and foremost, the quality of this necklace is exceptional. It is evident that great care and craftsmanship went into creating this piece. The necklace feels solid and well-made, with no flimsy or cheap components. I can confidently say that it is built to last.
What truly sets this necklace apart is its unique design. The combination of the Krobo glass beads and the mask pendant creates a striking and eye-catching aesthetic. Each bead is distinct and showcases its individual character, adding to the overall charm of the necklace. I have received countless compliments on its appearance, and it never fails to spark conversations.
Moreover, the necklace from Cloth and Cord has been a testament to their commitment to offering unique and high-quality products. This purchase has solidified my trust in their brand, and I eagerly look forward to exploring their collection further.
In conclusion, the Men Krobo Glass Bead Necklace with Mask Pendant has been an excellent purchase. Its outstanding quality, attention to detail, and distinctive design make it a standout piece. I highly recommend this necklace to anyone seeking a unique and well-crafted accessory. Cloth and Cord has won me over as a satisfied customer, and I can't wait to see what their next piece has in store for me!
Thank you, Cloth and Cord, for delivering such a fantastic product!
Continue this amazing work. Constantly receiving compliments on the piece
Great quality and people asked me where they could purchase one.
I love your products, I plan to get few more things from your liine of items, delivery fast.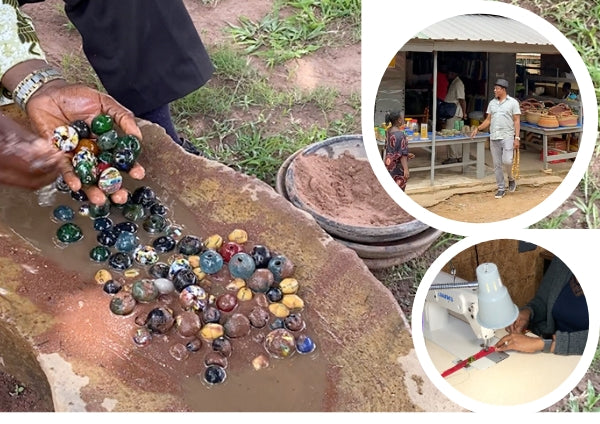 Empowering Communities Through Sustainable, Ethical and Innovative Practices
HANDMADE BY ARTISANS IN THE USA & AFRICA
Cloth & Cord is a company deeply committed to making a positive impact while producing ethical and sustainable goods in both the United States and Africa. Blending the principles of AI/STEAM (Science, Technology, Engineering, Arts, and Mathematics), the company creates responsibly crafted products that are not only affordable but also support talented artisans.