African Necklace for Men | Red Ankara Necklace | Men's Ketepa Corded Neck Tie | Men's African Tie | Mens Tribal Jewelry | Red, Blue, Yellow | Afrocentric Collar | Cloth & Cord
Red Men's Ketepa Corded Necklace
Measurement: 21in length, 3 1/2in bottom loop
Color: Multi-colored, prominent red and blue
Fabric: Ankara fabric
Hardware: Red copper with African glass and wood beads
Closure: 13in adjustable leather ties
Note: Each item is handmade, due to variances in the fabric print each item may look slightly different from the one pictured. No two items will look exactly the same, thus creating a custom look just for you.
Care: Do not sleep, bathe or exercise while wearing this necklace.
Please read our "Shipping and Shop Policies" before check-out. Thanks, Cloth & Cord
---
Free shipping on orders over $100 (Domestic only)
African Necklace for Men | Red Ankara Necklace | Men's Ketepa Corded Neck Tie | Men's African Tie | Mens Tribal Jewelry | Red, Blue, Yellow | Afrocentric Collar | Cloth & Cord
Beautiful, Classy and Cool
Looked at the pictures, read the reviews and clicked and bought. Received and ecstatic. I'm a fussy S.O.B and this was great quality, well crafted and I'll wear with pride and swag!.
This is a **** piece on my man!
This is my first time purchasing, I enjoy different thing.
Beautiful. I love it. Will be ordering more in the very near future
I love this necklace. It's so wonderful to support black businesses and feel apart of my ancestors. I got my necklace in a speedy fashion as well. Thank you , this is actually my second purchase , I will continue to shop.
Just arrived today. AMAZING!!!! Can't wait to wear it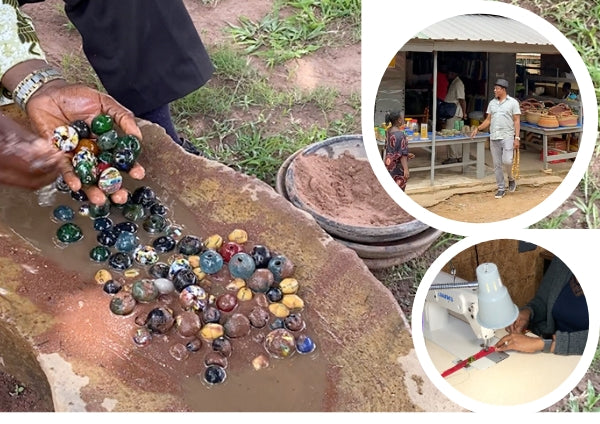 Empowering Communities Through Sustainable, Ethical and Innovative Practices
HANDMADE BY ARTISANS IN THE USA & AFRICA
Cloth & Cord is a company deeply committed to making a positive impact while producing ethical and sustainable goods in both the United States and Africa. Blending the principles of AI/STEAM (Science, Technology, Engineering, Arts, and Mathematics), the company creates responsibly crafted products that are not only affordable but also support talented artisans.