African Jewelry Necklace | Ketepa Print Jewelry | The Monarch African Bib Necklace | Ketepa 5 Strand Bib Necklace | Afrocentric Collar | Cloth & Cord
The Monarch African Bib Necklace
 Measurement: 16 in circumference, 6 in down the middle
 Color: multi-color, blue, red, black, brown
 Fabric: Ketepa print
Custom vegan leather ends to ensure maximum comfort while wearing this piece
Closure: Black lobster claps with 4 in extender chain, 2 in longer than standard
Note: Each item is handmade, due to variances in the fabric print each item may look slightly different from the one pictured. No two items will look exactly the same, thus creating a custom look just for you.
Care: Do not sleep, bathe or exercise while wearing this necklace.
---
Free shipping on orders over $100 (Domestic only)
African Jewelry Necklace | Ketepa Print Jewelry | The Monarch African Bib Necklace | Ketepa 5 Strand Bib Necklace | Afrocentric Collar | Cloth & Cord
Very pretty
I love it! Not cheap looking and seems very durable. I received lots of compliments. I'd buy another one.
I haven't worn my bib necklace as of yet but pleased with the product. I look forward to future ordering.
When will this necklace will be available?
I selected this item as a gift for my daughter. It looked nice in the picture, but when I opened the box. It was far nicer than I imagined. She is going to love it I'm sure. This was my 4th purchase and I've never been disappointed in the least. High quality products at an affordable price. I HIGHLY recommend.
Beautifully made. Well made and complementary to attire!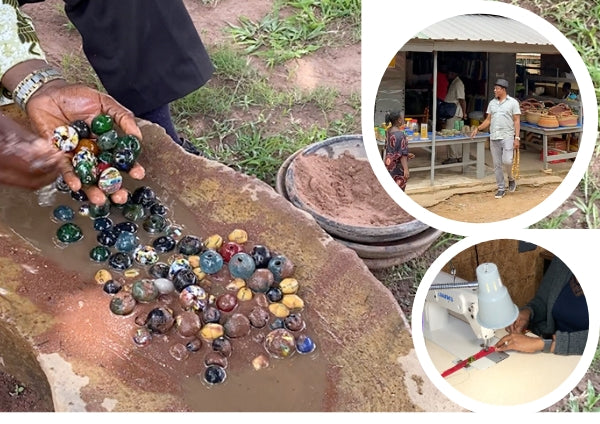 Empowering Communities Through Sustainable, Ethical and Innovative Practices
HANDMADE BY ARTISANS IN THE USA & AFRICA
Cloth & Cord is a company deeply committed to making a positive impact while producing ethical and sustainable goods in both the United States and Africa. Blending the principles of AI/STEAM (Science, Technology, Engineering, Arts, and Mathematics), the company creates responsibly crafted products that are not only affordable but also support talented artisans.