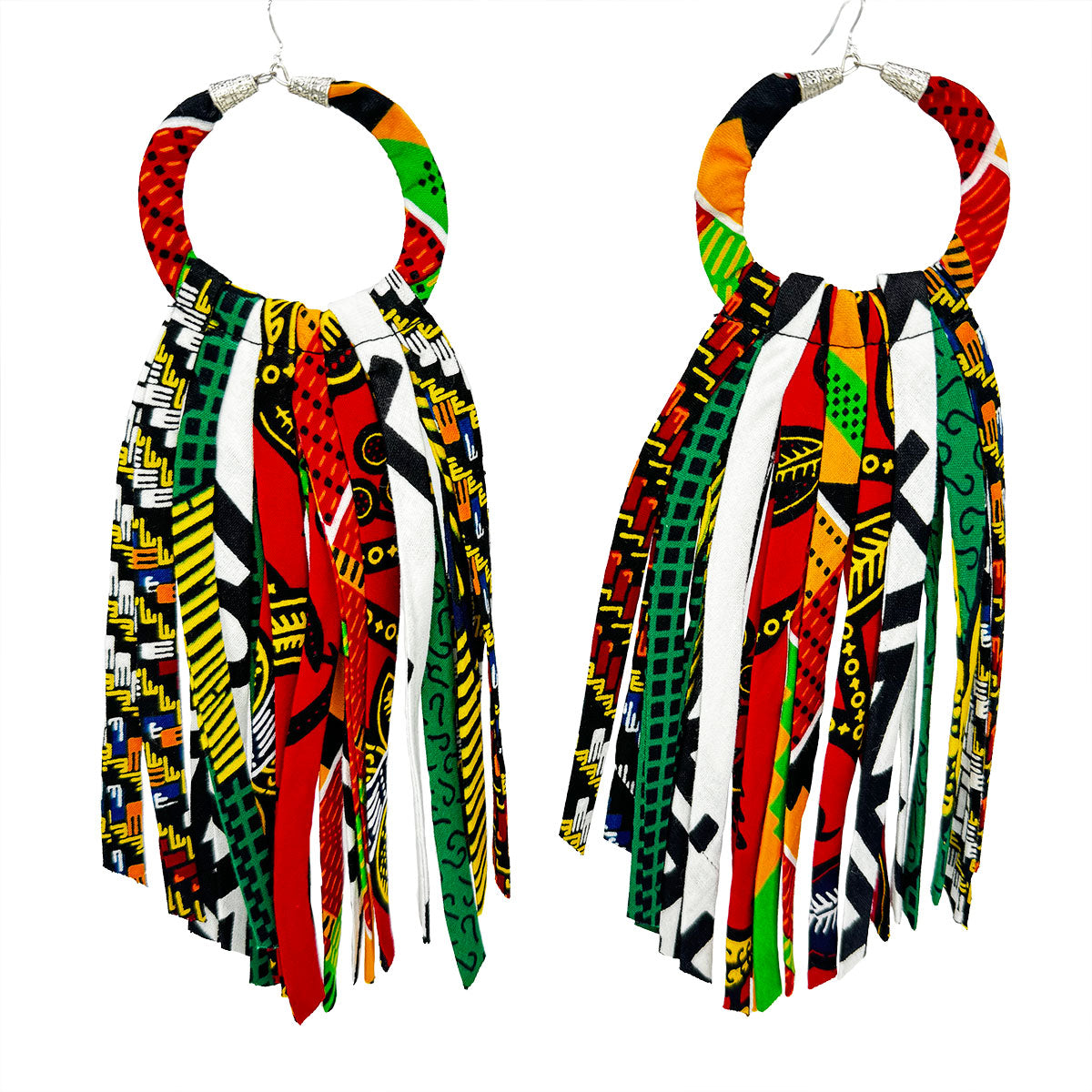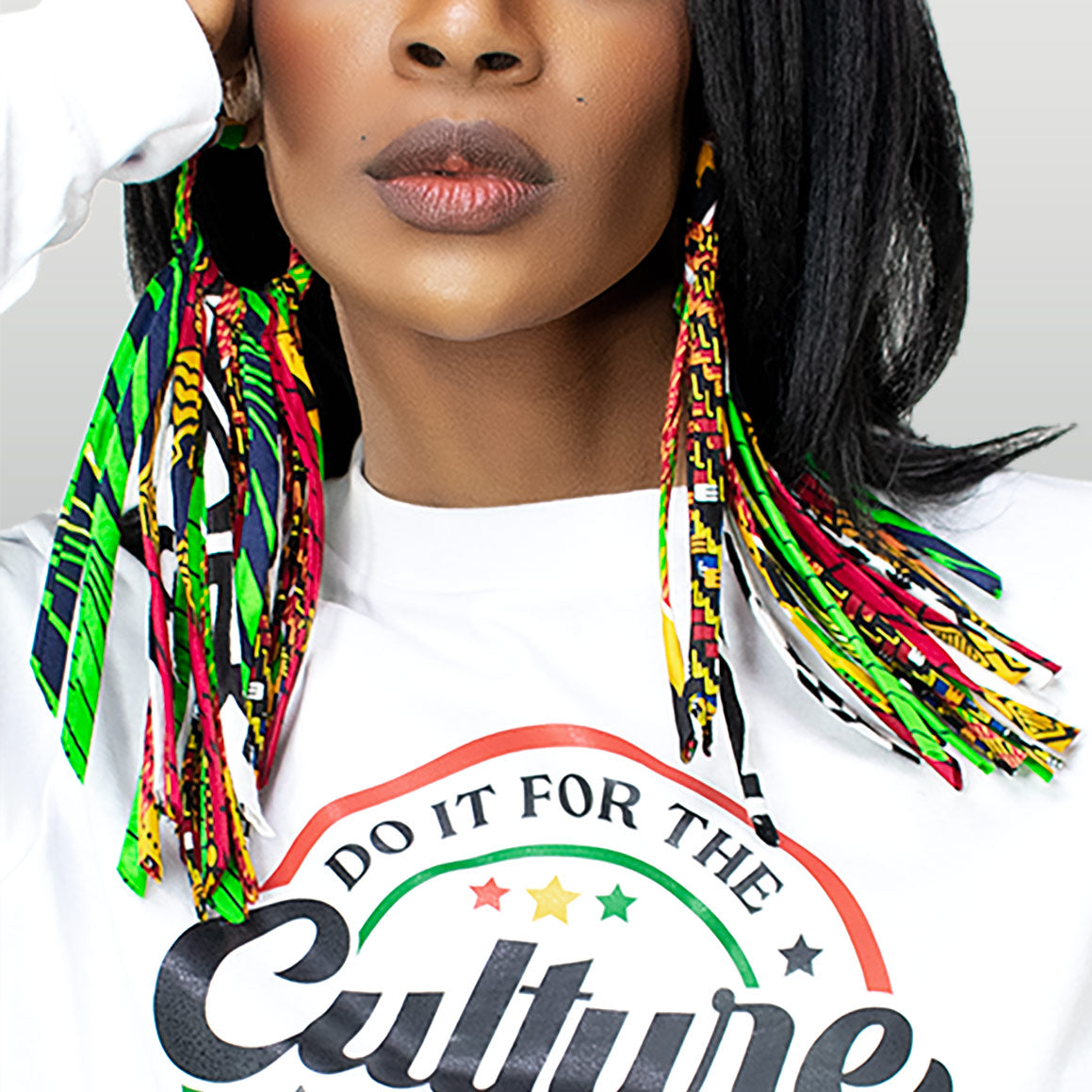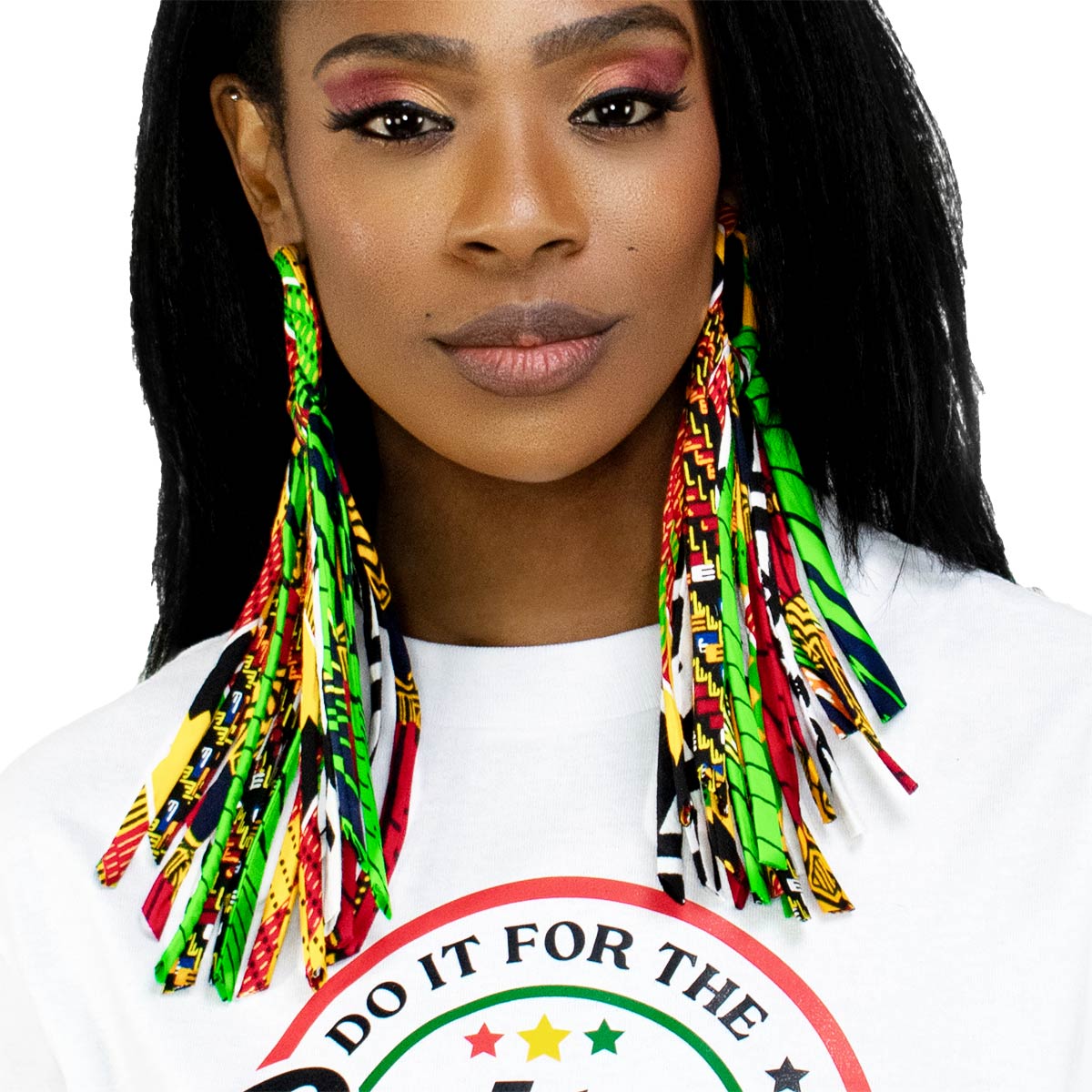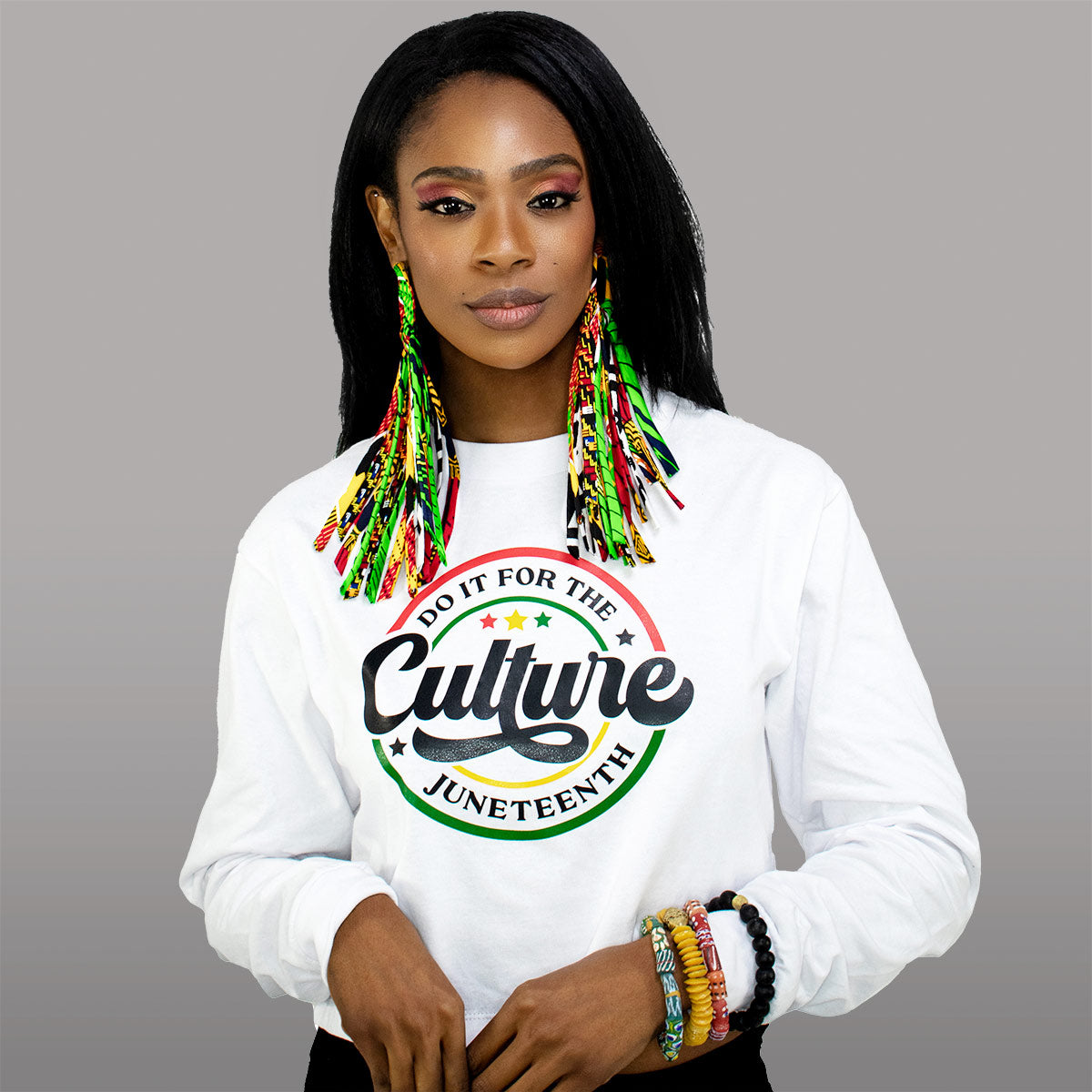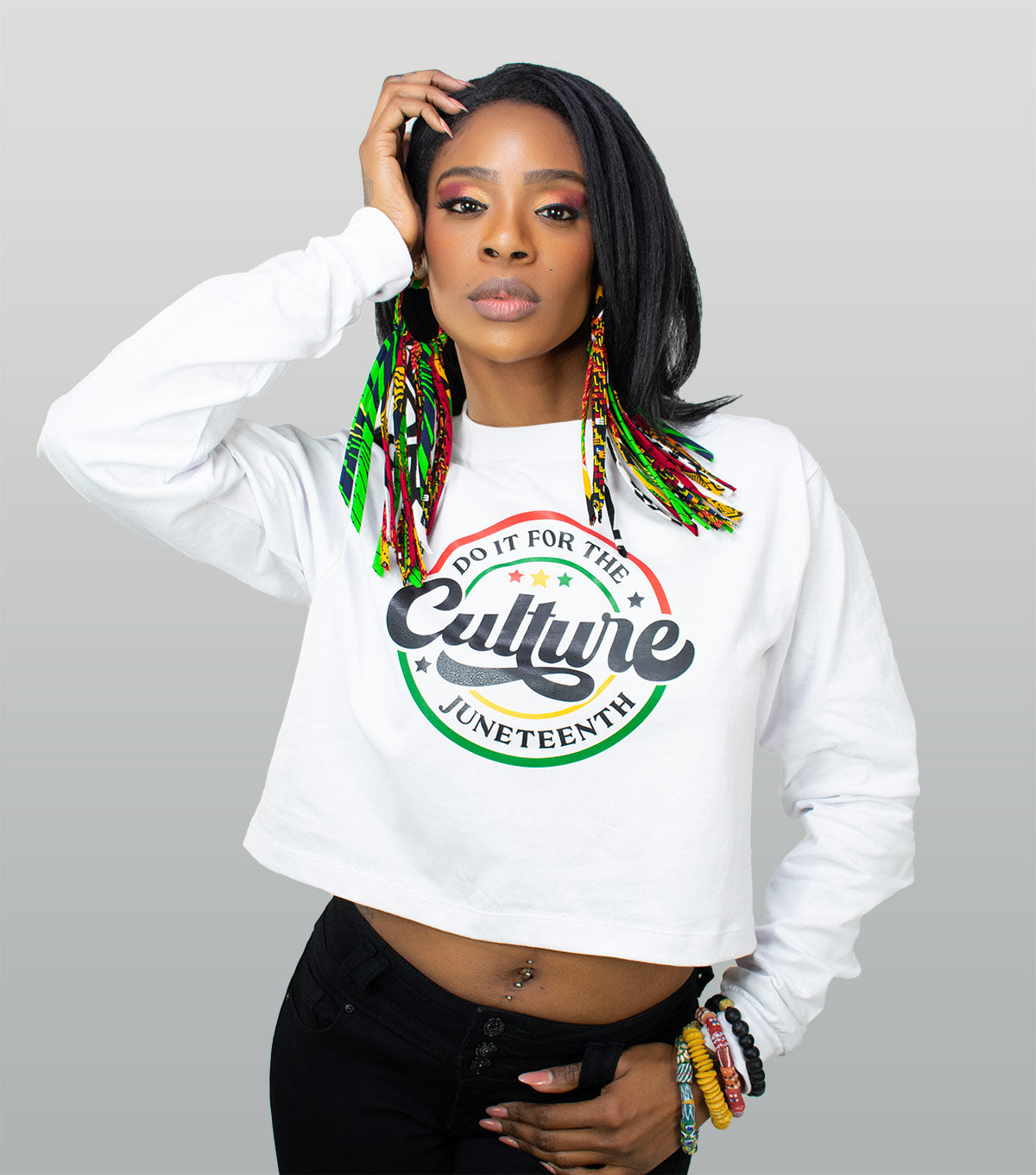 Africa Tassel Earrings - Fringe Wax Print Earrings - Green yellow red black Ankara Earrings -
These mixed wax print fringe earrings are to die for, and they're lightweight! Are you ready for constant compliments on how cute you look? You can't go wrong these beauties!
Measurement: Length: approx 10 in.  Width: approx. 4 1/2 in.
Color: Multi-colored, Green, Red, Black, White, Yellow
Fabric: Ketepa Cloth
Closure: Silver Earring Hooks & Silver Cone Ends
The quality of these earrings are outstanding. They've been sewn into perfect sized strips then flipped at the bottom has been cut at an angle to ensure these beauties stay looking great beyond the first time you wear them!
Note: Each item is handmade, due to variances in the fabric print each item may look slightly different than the one pictured. No two items will look exactly the same, thus creating a custom look just for you.
Care: Do not sleep, bath or exercise while wearing this item.

---
Free shipping on orders over $100 (Domestic only)
Africa Tassel Earrings - Fringe Wax Print Earrings - Green yellow red black Ankara Earrings -
Eye catching statement piece! Wow factor!
These earrings definitely make a statement! They are vibrant, colorful, and catches everyone's attention because they are so beautiful. They give that wow factor to any outfit! This was one of my best purchases. I will be ordering more.
I loved my earrings
Everywhere I went someone asked me where did I get my earrings or said they are beautiful.
My 1st purchase and it won't be my last.
Love the strip on the shoulder of the Juneteenth shirt. The earrings are dope AF I can't wait to throw on my little black dress and let the earring be the star of show. !!!!!!!!
Adding to My Vegas Style
What a conversation piece! I'm always on the lookout for unique, fashionable pieces. Check✔️ The earrings caught a lot of attention from children and men. And they definitely make a fashion statement when dressed up or down I suggest you get you a pair and your friend too so they want try to borrow yours! Enjoy the attention and the statement you will make!
Gorgeous.
These are so beautifully crafted. I cannot wait to wear them.
So many compliments
I received so many compliments. These show stoppers are light weight and gorgeous!!!
Africa Tassel Earrings - Fringe Wax Print Earrings - Green yellow red black Ankara Earrings -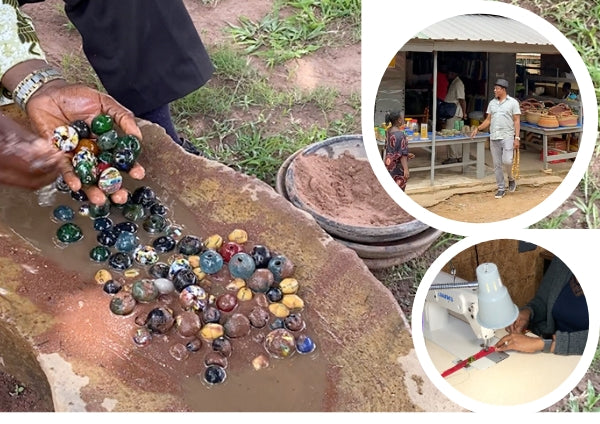 Empowering Communities Through Sustainable, Ethical and Innovative Practices
HANDMADE BY ARTISANS IN THE USA & AFRICA
Cloth & Cord is a company deeply committed to making a positive impact while producing ethical and sustainable goods in both the United States and Africa. Blending the principles of AI/STEAM (Science, Technology, Engineering, Arts, and Mathematics), the company creates responsibly crafted products that are not only affordable but also support talented artisans.