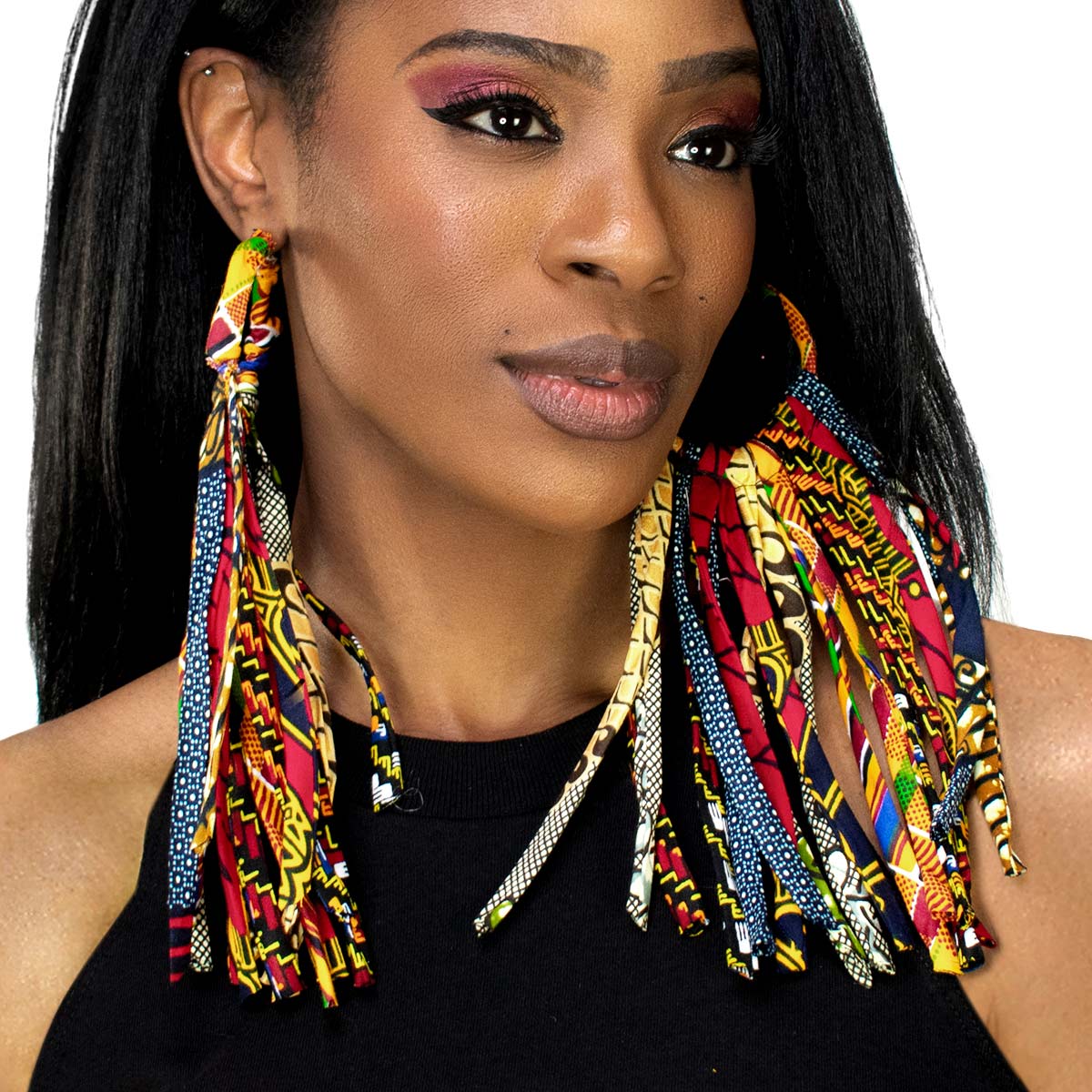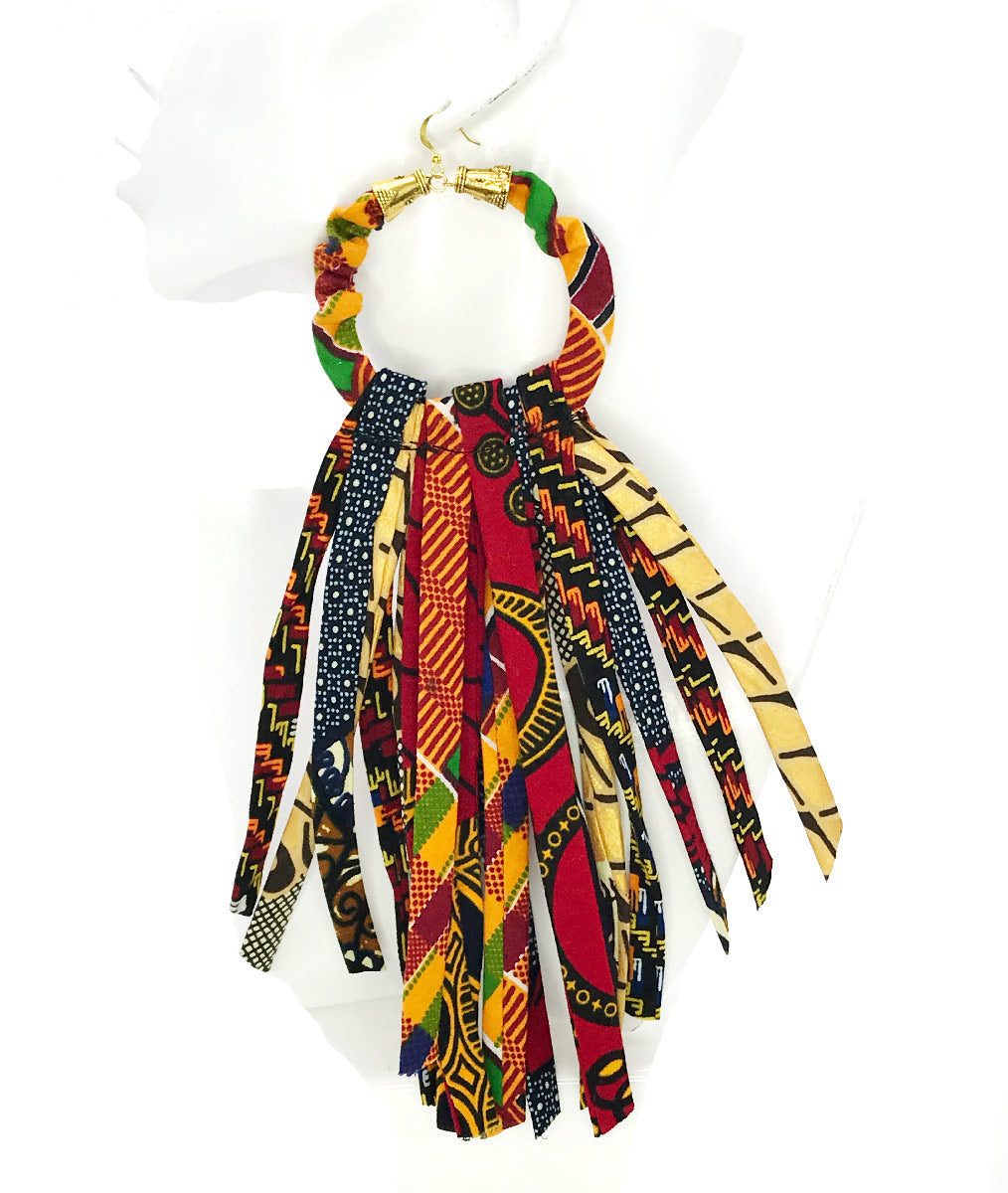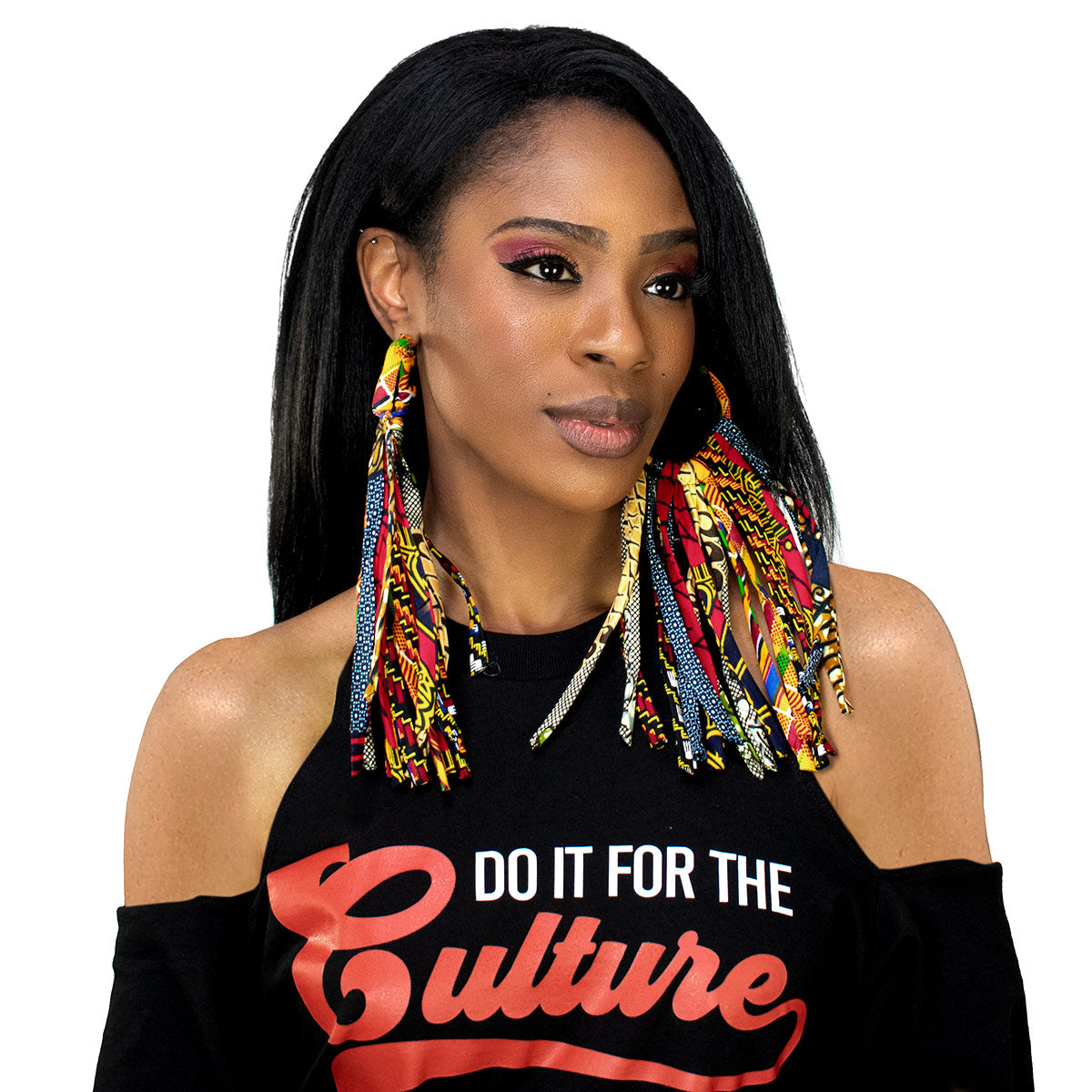 Rich Auntie Tassel Earrings - Fringe Wax Print Earrings - Red, Blue, Gold, Orange Ankara Earrings -
These mixed wax print fringe earrings are to die for, and they're lightweight! Are you ready for constant compliments on how cute you look? You can't go wrong these beauties! The quality of these earrings are outstanding. They've been sewn into perfect sized strips then flipped at the bottom has been cut at an angle to ensure these beauties stay looking great beyond the first time you wear them!
Measurement: Length: approx 10 in.  Width: approx. 4 1/2 in.
Color: Multi-colored. Blue, Red, Gold, yellow, Green, Maroon, Black
Fabric: African wax print
Closure: Gold Earring Hooks & Cone Caps
---
Free shipping on orders over $100 (Domestic only)
Rich Auntie Tassel Earrings - Fringe Wax Print Earrings - Red, Blue, Gold, Orange Ankara Earrings -
Rich Auntie Earrings
I was worried that the earrings would be "too much" because I don't normally wear big accessories. I was so wrong! I fell in love with them when I first opened the box. The design/quality is impeccable. Just absolutely gorgeous! Im so glad I took a chance on these.
If you are on the fence about buying them, don't be! Just do it!
I love them!
I'm in love with these earrings! They are definitely a statement piece. I received so many compliments and inquiries, and I'm not that girl who doesn't share where I've purchased something from. I hope u sell out!
Gorgeous
I love the earrings they complement my short natural hair. Everyone at work asked could they purchase a pair.
I haven't worn them yet. But I look forward to the day I'll have the occasion to do so.
I love them.
earrings
Love the earrings! Beautifully unique.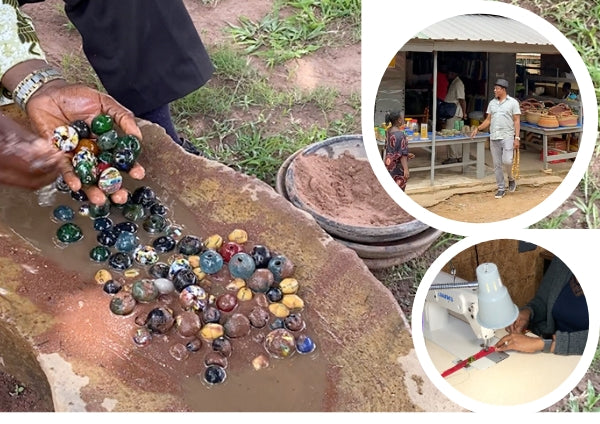 Empowering Communities Through Sustainable, Ethical and Innovative Practices
HANDMADE BY ARTISANS IN THE USA & AFRICA
Cloth & Cord is a company deeply committed to making a positive impact while producing ethical and sustainable goods in both the United States and Africa. Blending the principles of AI/STEAM (Science, Technology, Engineering, Arts, and Mathematics), the company creates responsibly crafted products that are not only affordable but also support talented artisans.