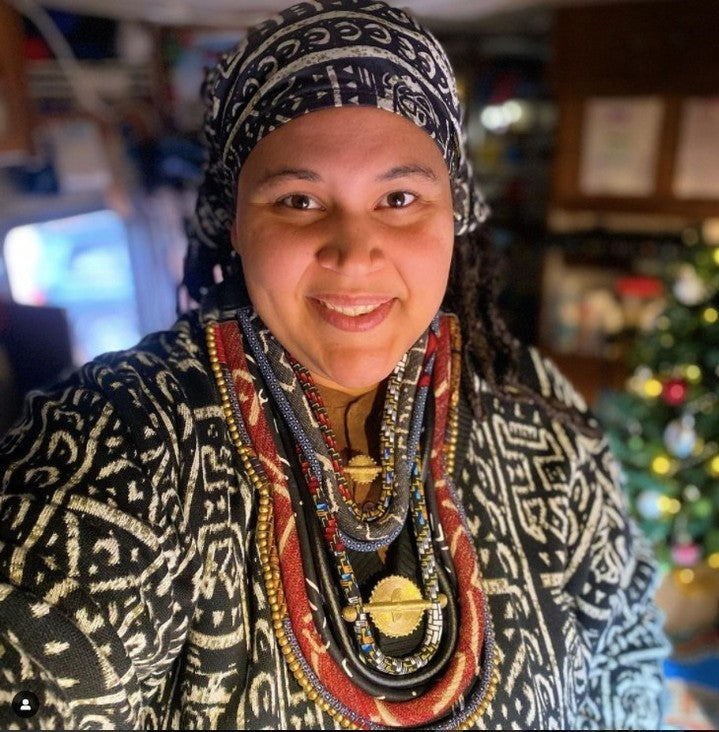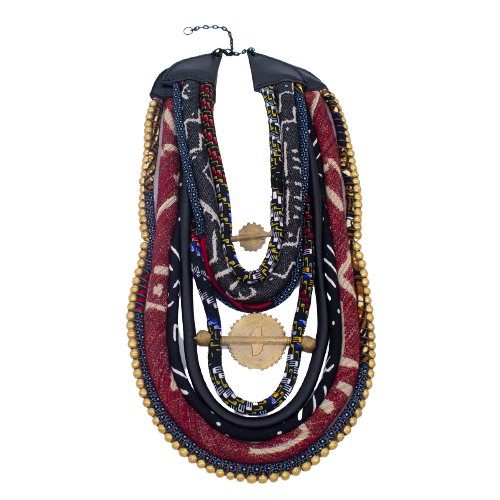 Women's Statement African Bib Necklace | Mud Cloth | Africa Necklace | Tribe | Ladies Chunky Collar
This African multi-color bib is sure to turn heads! It consists of two bibs combined as one. The handmade Sun Baule Brass Beads from Ghana are easily identified by the Adinkra sun and moon symbols. The wound globe beads throughout this piece are handmade individually through the "Lost Wax process" technique. The beads measure approximately 13-14mm in diameter. The small gold beads are handmade, waxed, and are superior in quality. The extensive detail throughout this piece is what makes it very compelling. This high quality bib has an awesome finish and bold look!
Measurement: Length: 15 in.  Width: 7 1/2 in.
 Color: Multi-colored, Maroon, Black, White, Blue
 Fabric: Faux mud cloth fabric
 Closure: Black lobster closure - 4 in. extension chain
*** This includes the necklace only *** (Earrings sold separately)
Note: Each item is handmade, due to variances in the fabric print each item may look slightly different from the one pictured. No two items will look exactly the same, thus creating a custom look just for you.
Care: Do not sleep, bathe or exercise while wearing this necklace.
Please read our "Shipping and Shop Policies" before check-out. Thanks, Cloth & Cord
---
Free shipping on orders over $100 (Domestic only)
Women's Statement African Bib Necklace | Mud Cloth | Africa Necklace | Tribe | Ladies Chunky Collar