African Jewelry for Men | Men's Black Necklace |The Black Regent Men's Necklace | Jewelry For Him | Men's Black Fabric Necklace | Beaded Men's Necklace | Cloth & Cord
The Black Regent Men's Necklace
Measurements: 21in length
Color: Black
Fabric: 100% Cotton
Hardware: Red copper with African glass and wood beads
Closure: 13in adjustable leather cording
Note: Each item is handmade, due to variances in the fabric print each item may look slightly different from the one pictured. No two items will look exactly the same, thus creating a custom look just for you.
Care: Do not sleep, bathe or exercise while wearing this necklace.
---
Free shipping on orders over $100 (Domestic only)
African Jewelry for Men | Men's Black Necklace |The Black Regent Men's Necklace | Jewelry For Him | Men's Black Fabric Necklace | Beaded Men's Necklace | Cloth & Cord
I wanted a thick rope like necklace to support this bedazzled tiger pin that I purchased. I had to give this a shot and it did not disappoint. The two look great together. Quality craftsmanship and unique weight to it that I'm not used.
It's very cool and it met my expectation, and I like it!
My partner loved this gift. It's beautifully made. It shipped quickly, as well.
Beautifully crafted and comfortable to wear! I'm looking forward to future purchases!
It was my first time buying from this site, but definitely will not be my last. I haven't worn them yet but they look amazing!
A seemingly kind and personal touch, coupled with a quality product. No complaints here. I highly recommend that others follow this business model.
I really enjoyed the piece, however the black string snapped...also would love to see more products offered for men....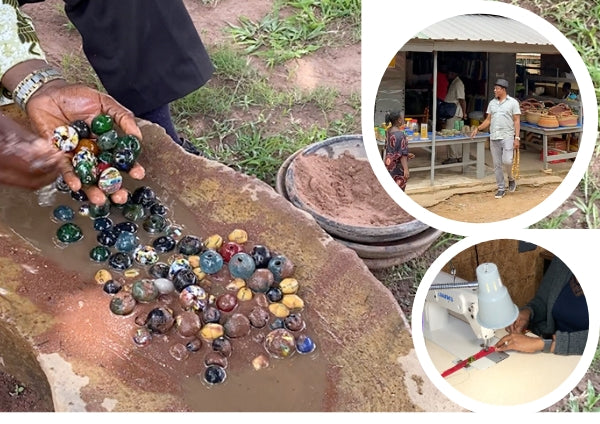 Empowering Communities Through Sustainable, Ethical and Innovative Practices
HANDMADE BY ARTISANS IN THE USA & AFRICA
Cloth & Cord is a company deeply committed to making a positive impact while producing ethical and sustainable goods in both the United States and Africa. Blending the principles of AI/STEAM (Science, Technology, Engineering, Arts, and Mathematics), the company creates responsibly crafted products that are not only affordable but also support talented artisans.