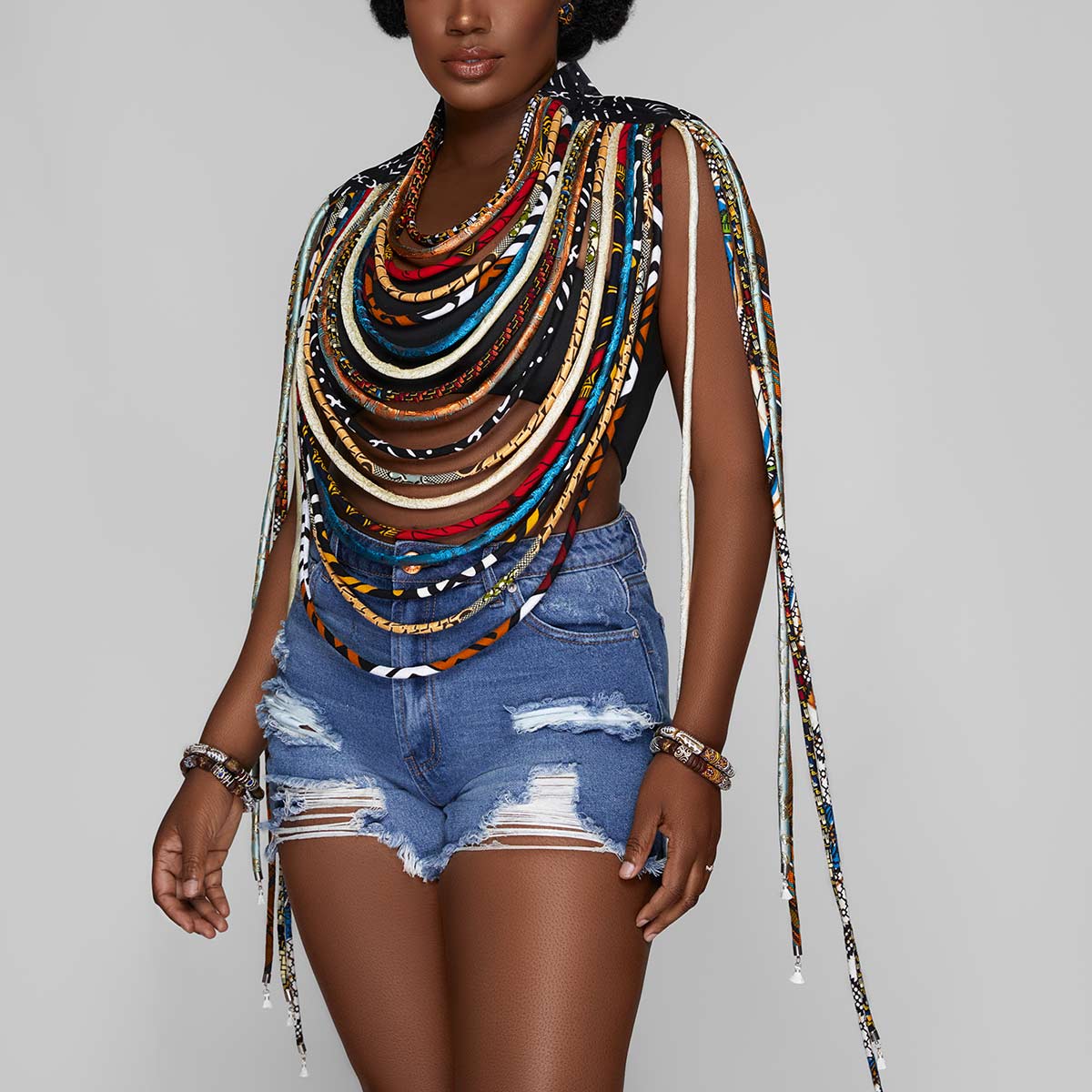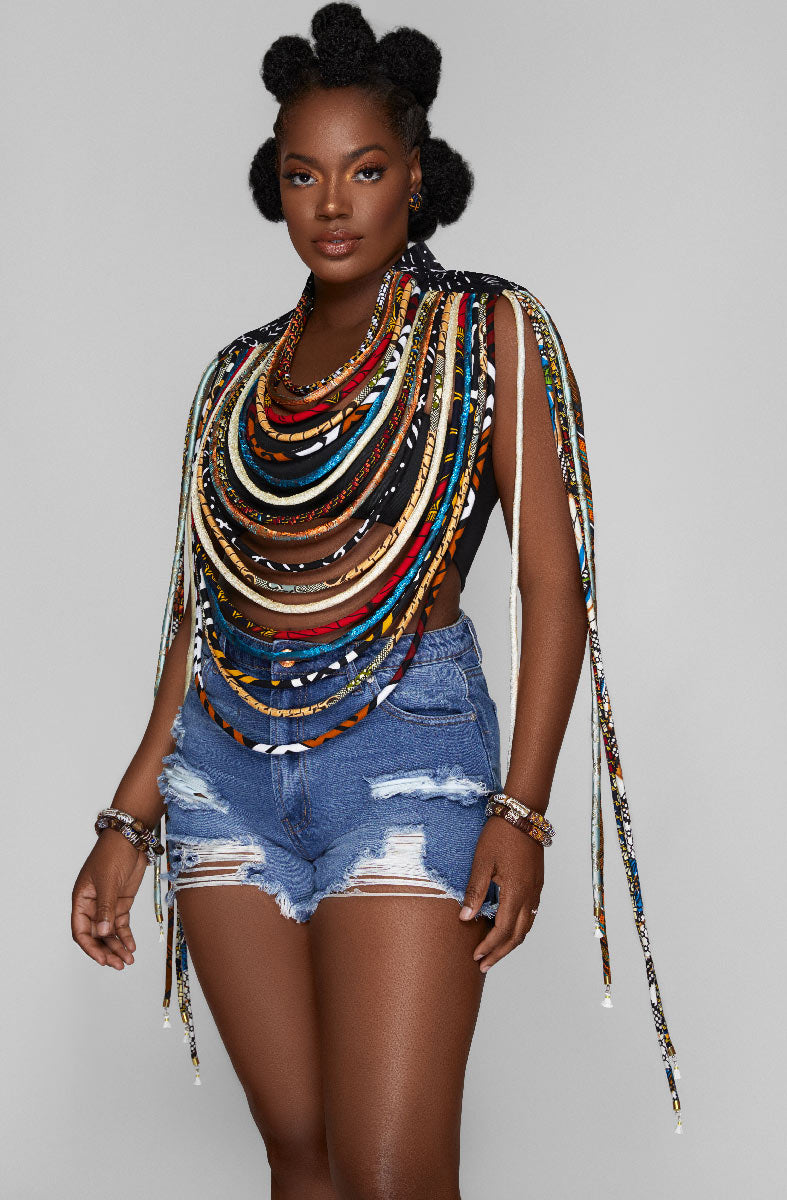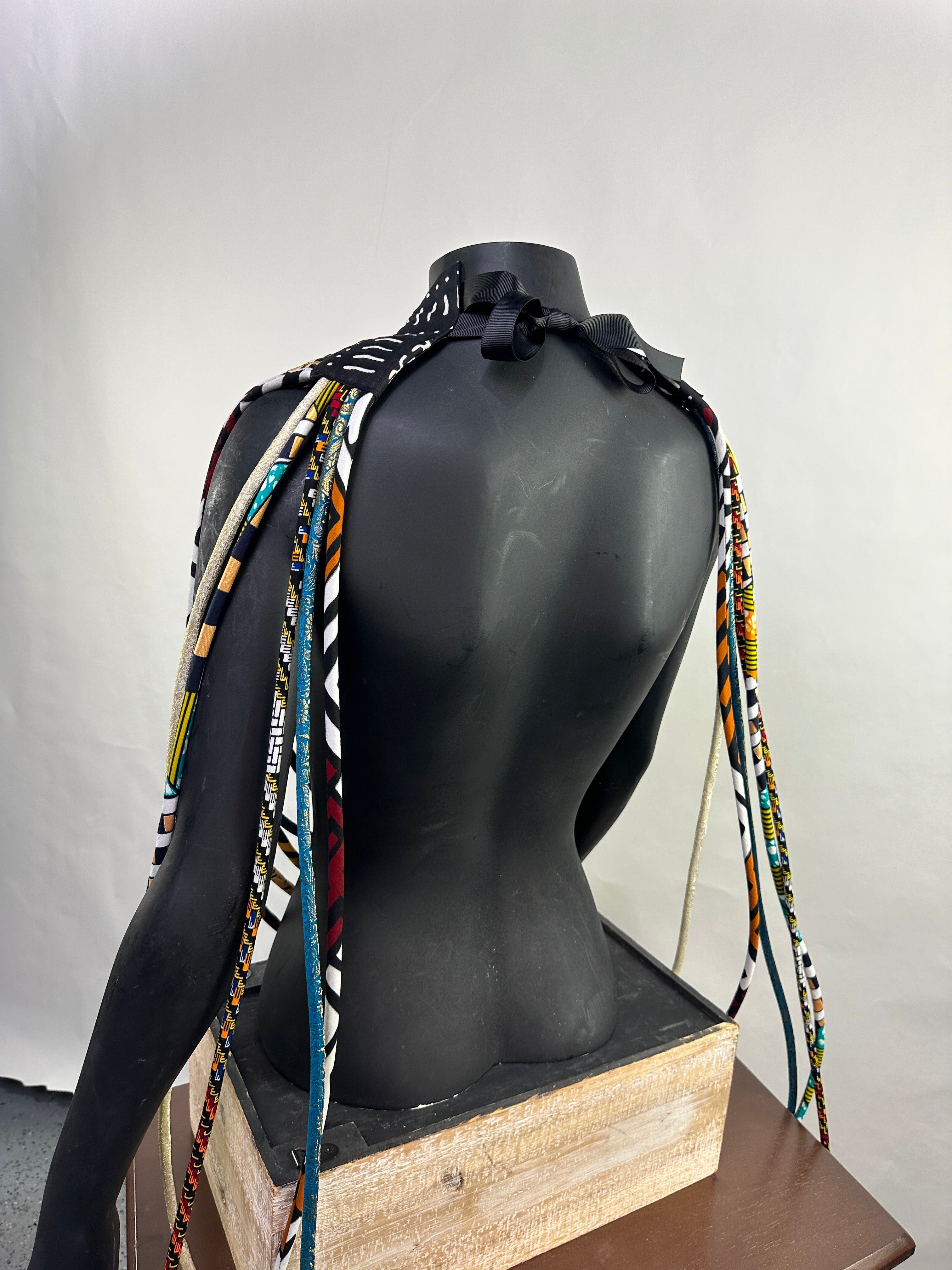 African Large Statement Necklace | African Waxprint | Multi-color Statement Necklace | Cloth&Cord
This African Large Statement Necklace is a true conversation starter. This elegant piece is sure to help you amplify any outfit, especially for those last minute events when you need something to wear.
Measurement: Length: approx 23 in.  Width: approx. 4 1/2 in.
Color: Multi-colored,Prominent Blue, Black, White, Red, Yellow, Green
Fabric: Ankara Print
Closure: 13 in adjustable ribbon, making it east to tie in the back for security.
Note: Each item is handmade, due to variances in the fabric print each item may look slightly different from the one pictured. No two items will look exactly the same, thus creating a custom look just for you.
Care: Do not sleep, bathe or exercise while wearing this necklace.
---
Free shipping on orders over $100 (Domestic only)
African Large Statement Necklace | African Waxprint | Multi-color Statement Necklace | Cloth&Cord
Recent Purchases
The iteams were as pictured and beautiful, shipping and delivery took a lil longer then I expected (package was delivered to the wrong address by the postal office
Beautiful piece!!!!
Looks exactly as advertised. Vibrant colors, great quality, and a little heavy that prevents movement. When ordering, take into consideration your bust size because it will not sit like it does on the model.
Cloth&Cord necklace
I totally love my necklace. A definite statement piece.
This is my second necklace purchased from Cloth& Cord. This necklace also is stunning and grand! African material again is excellent quality and style. Thankyou again Cloth & Cord. Sincerely Satisfied Customer, Michelle Gladney
The Customer Service at Cloth & Cord is top notch and are matched by the fast delivery and impeccable beauty and craftsmanship of their body art. I was exceptionally proud to enter the screening of WAKANDA FOREVER adorned in my cultures' finery.
I can't wait to rock this amazing piece!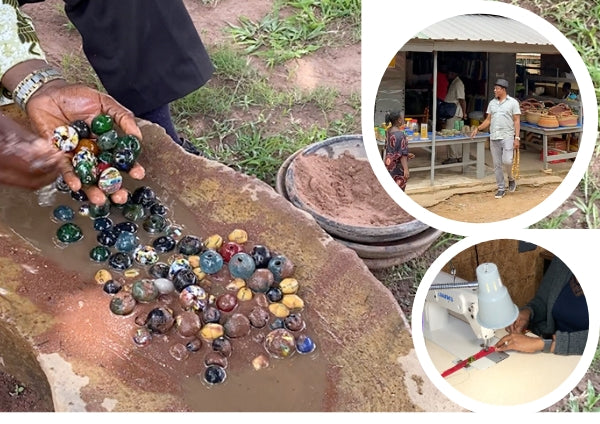 Empowering Communities Through Sustainable, Ethical and Innovative Practices
HANDMADE BY ARTISANS IN THE USA & AFRICA
Cloth & Cord is a company deeply committed to making a positive impact while producing ethical and sustainable goods in both the United States and Africa. Blending the principles of AI/STEAM (Science, Technology, Engineering, Arts, and Mathematics), the company creates responsibly crafted products that are not only affordable but also support talented artisans.